"Original Pilot" is the 1st episode of Father of the Pride, directed by John Stevenson and written by Jonathan Groff.
When Sarmoti accidentally makes a mistake on the show while trying to improve his act and making him lose his position as the lead lion, Siegfried and Roy decide it is time for Sarmoti to retire and search for a replacement. Larry and Kate do not know how to tell Sarmoti that he has been replaced. Larry asks Snack to help him and the two visit Roy to convince him to keep Sarmoti in the show as the star. However, things go wrong when Snack makes a mistake and Larry saves Roy, but becomes the lead lion in the process. Later, after Larry finally tells Sarmoti he got fired, he takes it well; but the two soon start fighting with each other when Larry offers to take Sarmoti home. Siegfried and Roy decide to move him in with Larry and Kate as they mistake Larry and Sarmoti's fighting for love, much to their dismay.
Full Story
Edit
Coming soon!
Voice cast
Edit
This episode was not aired on U.S. television.
Larry: "Hey, Roger."



—Roger showing his trick to Larry, Father of the Pride
Larry: "Whoa, Vincent. What's goin' on?"

Vincent: "I'll tell you what's goin' on! Snack here was supposed to score me 5 pounds of shrimp!"



—Vincent arguing with Snack, Father of the Pride
Snack: "Hey! Check out my bellybutton! I'm usin' it as a pocket! (Takes out a shrimp from his belly button) Shrimp?"

Larry: "Ugh. Not now, Snack. It's nap time."



—Snack showing Larry that he uses his bellybutton as a pocket, Father of the Pride
―Sierra to Larry about Hunter
"You'll never catch me, General Zinulax!"
―Hunter
Larry: "Goodbye, sweetie."

Kate: "Goodbye."



—Larry going to visit Sarmoti, Father of the Pride
Larry: "(Whispering) Sarmoti. (Normal voice) Sarmoti? (Goes over to a sleeping Sarmoti and touches him, startling him awake; he freaks out and holds out his cane as a weapon)"

Sarmoti: "Who is that? Who is that?!"



—Larry visiting Sarmoti, Father of the Pride
Snack: "So, what's goin' on?"

Larry: "Kate's mad at me."



—Larry and Snack discussing women, Father of the Pride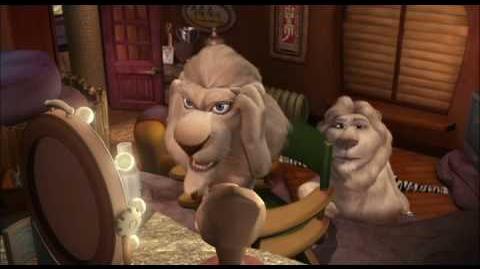 References
Edit
External links
Edit
Ad blocker interference detected!
Wikia is a free-to-use site that makes money from advertising. We have a modified experience for viewers using ad blockers

Wikia is not accessible if you've made further modifications. Remove the custom ad blocker rule(s) and the page will load as expected.